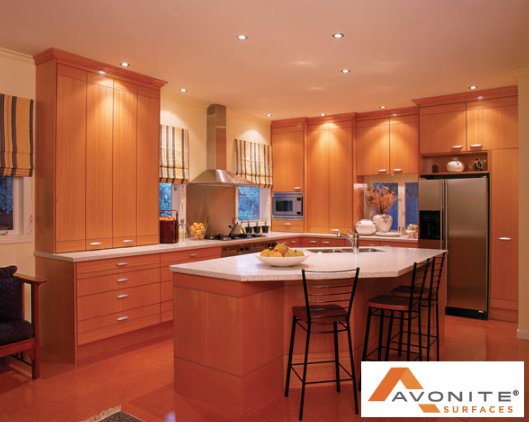 When finding the perfect counter material for your home remodel, you have a wide variety of exciting choices. From solid surface countertops to marble, you have an incredible range of options. This year solid surface remains a popular option. Why? Affordable, versatile, and easy to clean, the solid surface provides a great option for homeowners and families. Check out this year's top trending counter-trends.
Formica Solid Surface Countertops
Formica Solid Surface countertops remain one of the most popular materials. This resin-based material comes in two sizes and is relatively affordable for most homeowners. Most homeowners opt for professionally fabricated and installed solid surface countertops. They come in a variety of grades and thicknesses. Most Formica countertops come with an extended warranty option. Formica does not always need wood backing. However, this depends on the application.
Custom Thermoformed Countertops
What is thermoforming? Unlike quartz, a solid surface can be molded into an infinite number of sizes and shapes. This allows homeowners a broad option to create a surface that matches their unique style and home.
Fabricators will warm up the material, allowing it to be shaped carefully. After the materials are shaped, a professional will slowly cool down the material, avoiding breaking and damage. At this point, our team at Solid Surface Canada will install the new countertop.
DuPont Countertops with Trough Sinks
Do you need more space to prep food and wash dishes? One of this year's top trends is an attractive counter with a trough sink. These sinks come in over one hundred gorgeous colors. No matter your unique style, our design team at Solid Surface Canada can help you find the perfect choice for you. You will absolutely love your new DuPont Corian trough sink.
No matter your budget, our seasoned team at Solid Surface Canada will help you find the perfect counter option for you. We offer a wide range of high-quality products including residential and commercial countertops and expert thermoforming.
We pride ourselves on the high quality of our brands: Avonite, Formica, Corian, and more. Contact us today to find out how we can help you find the ideal countertop for your home.