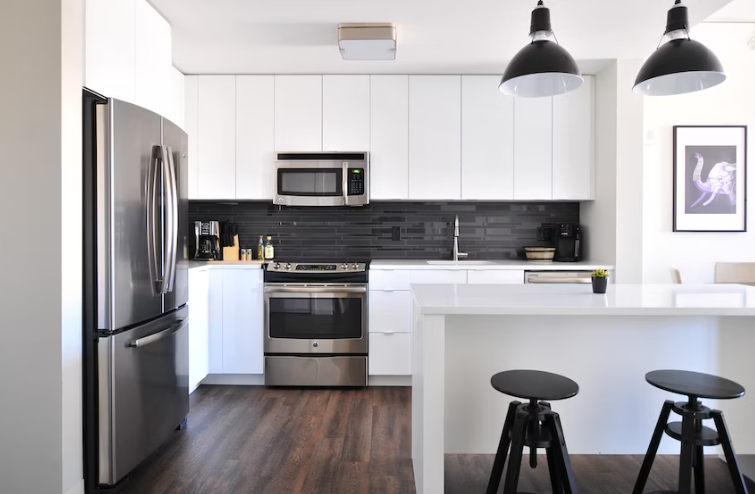 Are you tired of your outdated kitchen but lack the budget for a full remodel? Fear not! Achieving a dramatic makeover on a budget is possible, especially with clever updates and affordable solid surface countertops from Canada. Transform your cooking space into a fresh and contemporary haven with these budget-friendly ideas.
1. Fresh Coat of Paint: Modernize Your Cabinets
Consider painting your cabinets for an instant room transformation. Sand, clean, and fill any holes in your existing cabinets. Apply two coats of paint in your chosen color, opting for a satin or semi-gloss finish for durability and easy cleaning. Complete the fresh look by replacing old hardware with modern brushed nickel or oil-rubbed bronze pulls. Another way to improve your kitchen? Solid surface countertops from the best in Canada.
2. Affordable Elegance: Solid Surface Countertops
Refresh your cabinets further by adding new solid surface countertops like Corian, Gibraltar, or Avonite. These durable, cost-effective options mimic the appearance of stone and resist heat and stains. Hire a professional for precise measurement, custom fabrication, and installation.
3. Personality-Packed Backsplash Updates
Infuse personality into your kitchen by updating the backsplash affordably. Peel-and-stick tiles or removable wallpaper offer a quick and easy solution. These materials go up in a snap and peel off easily, allowing you to experiment with patterns and textures for added charm.
4. Illuminate with Style: Contemporary Lighting Fixtures
Give your kitchen a modern edge by replacing outdated light fixtures. Sleek drum pendants can add a contemporary touch over the kitchen island or peninsula, while semi-flush mounts provide ample task lighting at a minimal cost.
5. Budget-Friendly Appliance Upgrades
Working with a tight budget? Consider swapping outdated appliances for budget-friendly models with superior efficiency and features. Explore deals on closeout or gently used appliances. Additionally, replace old kitchen faucets with high-efficiency pull-down sprayers to simplify cooking prep.
6. Floor Facelift: Instant Updates
Freshen up your floors with a thorough cleaning and a new wax seal. For an instant update, lay peel-and-stick vinyl tiles or floating engineered wood planks over existing floors. Use area rugs to add color and temporarily hide worn spots.
Achieving a Fresh Look
Enjoy your fresh, contemporary cooking space without breaking the bank! A budget-friendly kitchen makeover is achievable with creativity and smart updates. Transform your outdated kitchen into a fresh and modern space that you'll be proud to show off to your family and friends. Start planning your kitchen makeover today and enjoy your new space in no time!
If you are looking for high-quality and durable solid surface countertops in the Greater Toronto Area, Solid Surface is the right choice for you. Our expert team is dedicated to providing exceptional customer service and helping you transform your kitchen space. Don't hesitate to contact us today to learn more about our products and services. We look forward to hearing from you!