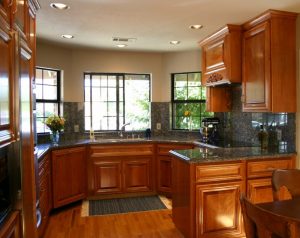 Just because you have a limited amount of space doesn't mean the kitchen of your dreams can't become a reality.
Many great kitchen ideas can be adapted to fit kitchens of all shapes and sizes.  With the right flexibility and a little bit of creativity, you can add personality and functionality to even the smallest of spaces.  Here are a few of our top tips for adding a touch of pizzazz to your small kitchen.
Multi-Purpose
Whenever possible, double-up on the usage of your space.  If a space is only used for one thing, that's less space you have to work with in the rest of your kitchen!  Think outside the box – integrated appliances fit more effortlessly in your kitchen than standalone appliances do.  Space behind your doors or cabinets can be used to hold shelves and racks, doubling up storage space.  Breakfast bars can hold pots and pans.  The only single-purpose thing you should have in your kitchen is your fire extinguisher!
High Cabinets
Many cabinets stop well before the ceiling.  That ends up being a lot of wasted space – space you could be using to store those only occasionally used items such as bread tins or cookie cutters.  Yes, you may need a stepladder or sturdy chair to get those things down when you need them, but if you only need them once every few months, the tradeoff is definitely worth it to open up more storage space.
Get Professional Help
The experts at Solid Surface Ca and Bertone Woodworking can help you come up with all sorts of creative ways to maximize the value of your kitchen.  From finding the right appliances to designing the best storage solutions, we can help you create a kitchen that will make you happy.  Come on by and talk with some of our designers, get some one-on-one advice for moving forward, and see what we can do for you!