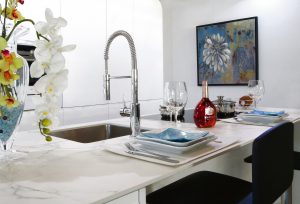 Kitchen countertops are often the focal point of any kitchen. Great care needs to be taken when deciding what will look the best in this busy room. Here are five different types of kitchen countertops and what to expect from them.
Stainless Steel
If you are an avid cook, or just a germaphobe, then stainless steel countertops are an innovative way to stylize your kitchen. While they are most often found in restaurants and industrial kitchens, stainless steel is slowly creeping its way into residential kitchens.
The positive side of stainless steel is that it is extremely easy to clean. It is also hardy and indestructible and will last a long time. However, stainless steel can scratch and dent, so the aesthetics may not be what you want over a long time. They are also quite expensive so it's important to know you want them in your home for a long period of time in order to get your money's worth.
Butcher Block
Butcherblock, made of different types of wood, gives a nice, warm, and inviting look to a kitchen. Options include bamboo which is sustainable, and maple, which is hardy. There are many different types of designs you can make with butcher block countertops, depending on the type of wood you use and the placement of the grain.
The biggest issue with butcher block countertops is that they require a fair bit of upkeep. To keep them sanitary, they will need to be sealed which has to be reapplied. They also get their fair share of scratches and stains.
Tile
One of the lesser used types of countertops is tile, but because of this, when you see it, it really packs a visual punch. Tile countertops can be all manner of style and material.
With tile countertops, its important to keep the grout intact and clean. Grout can also become discolored over time, so be sure to clean it with water and vinegar. If a tile piece becomes cracked or lose, it is relatively easy to fix, as long as there are extra tiles around.
Natural Stone
Natural stone is considered as on of the more premium types if countertops. Stone types such as granite and quartz need very little upkeep and add a dazzling shine to your kitchen. Marble can also be used, and while its natural design is a great focal point, it is more likely to crack or chip.
If you have the budget for a complete kitchen reno, natural stone is usually where that money ends up in.
Solid Surface
If you want the look of a high-end natural stone countertop, but don't want to invest in the expensive materials, then a nice alternative is a solid surface countertop. These products are man-made to look like their natural kitchen countertops. They can be found in a variety of styles and colors to suit all kitchen décor. Solid surface countertops are easy to clean and will last for a long time.