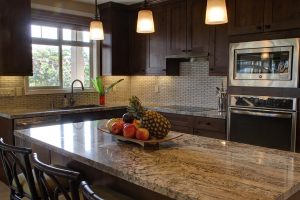 Not many people have the wherewithal to invest in a complete home renovation. It therefore ends up being the budget that determines just what part of the house gets updated. If you're not sure if investing in a kitchen is a good idea, here are four reasons why it's always a good idea to invest in a kitchen.
Selling Value
An updated, modern kitchen will go a long way in selling value, if you choose to move. But don't wait until you decide to move to invest in a kitchen. After all, you'll want to enjoy the hard work that you've put into it. Even kitchens that are five years old still have a large selling value. When remodelling, try to choose a more neutral, classic choice. This way anyone who looks at your house can envision themselves in it. If you need to add your personality to your kitchen remodel, choose bright walls. Putting on a new coat of paint is easy if you plan on selling in the future.
Energy Savings
There are a lot of appliances in a kitchen, and that means ample opportunity for sky-high utility bills. Investing in new appliances means that you will save when it comes to electrical and even gas bills. Look for Energy Star appliances that have been manufactured to smartly use electricity. Also look for different settings. A dishwasher, for example, that can run quick or half loads means that you won't have to use as much water to get a small number of dishes clean. Many local utility companies will also offer rebate programs, so check out their websites to see if you can save even more money.
Wear and Tear
The kitchen is the most-used room in a house and can quickly take a bit of a beating. While bedrooms and even the living room usually just need a fresh coat of pain, the kitchen will need a complete overhaul in its lifetime. Knicks in the countertop, broken cabinet hinges, dings in the tile: all are common in a kitchen. It's definitely not practical to remodel your kitchen every two or three years but start planning on when it makes the most sense. If you have small children, wait until they are in school. This way they'll not only be out of the house more when the repairs are happening, but they will hopefully be out of the complete mess stage of toddlerhood.
Positive Energy
The final reason why investing in a kitchen is always a good idea is really quite simple. You use your kitchen a lot and want to enjoy it. A kitchen should inspire you and make you want to bring people together. If it doesn't, start envisioning a new kitchen's potential so that you can add a bit of joy to the home.