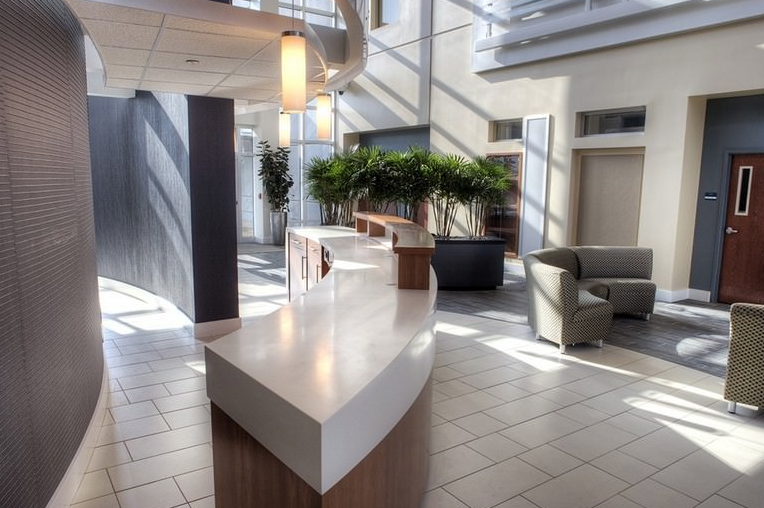 Whether you own a home, have a small business or run a large restaurant chain, you make a first impression the minute someone walks through your door. The right countertops make a statement about your home or business. You want surfaces that emphasize both elegance and functionality, as well as your individual taste. Explore this year's trending Minimalist design ideas.
Breaking Down Minimalist Design
When we discuss minimalism in interior design, we refer to the old axiom "less is more". In minimalist design clean simplicity and elegance have priority over the superfluous. In other words, clean countertops in muted colors, neutral tones, and clean lines demonstrate elegance and order. A commercial retail space, office, or home that emphasizes simplicity denotes professionalism and class.
Top Trending Design Ideas
When selecting the right materials for your minimalist design, you can choose from a wide variety of countertop options. Enjoy a great array of colors and styles. Here are the most popular minimalist ideas:
Solid surface neutral tone countertops contrasted with dark cabinets and fixtures
Custom task lighting to maximize utility and elegance
Metallic fixtures in mixed styles
Monochromatic palette in matte charcoal, marble, and white
Accent with natural materials, woods, and unique organic designs
Install a statement chandelier
Leave spaces blank or simply add sparse vases in dark colors to surfaces
Add beautiful geometric art prints
Place lovely vases of lush greenery strategically around the space
Install colorful toe-kick lights or under cabinet lighting for extra elegance
Carefully select which items to display in your home
Avoid cluttering counters and shelving
Coordinate the flow and layout of your space
Choose antique glass materials
Contrast neutral walls and flooring with bold bright countertop colors
Curved and organically shaped counters
Ergonomic design in opal
Simple lines and geometric
Avoid harsh patterns
Use recycled materials
Install stainless steel fixtures
Include hidden storage to reduce mess
Make stunning statements with unique custom shapes
Tastefully combine glass displays with elegant lighting
Always have the guest experience in mind
As you can see, there are countless ways to create an elegant clean minimalist look in your home or business. The minimalist style has the advantage of being easy to maintain and to perpetually looking classy. Unlike other styles like Boho, maximalist, or shabby chic, this clean design is timeless. Combine this style with an industrial look or Scandinavian furniture for a twist.
The Premier Design Professionals
Contact the seasoned design professionals at Solid Surface Canada today. Our friendly staff will happily answer any of your questions. We work with any project, large or small. We pride ourselves on superior artistry and craftsmanship. Call us today.