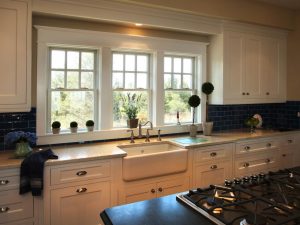 Modern kitchens are typically smooth and sleek, with streamlined finishes being the watchword of the day.  That's great and looks fantastic – but too much of a good thing can be harmful in and of itself.  It's easy to plan all these great, smooth looks – only to realize at the end that your kitchen looks flat and boring without some varied textures.  Especially if you're working mostly in one color, some added texture is crucial to giving your kitchen an interesting look.  Here's our tips on some easy additions you can make to break up the smooth and sleek monotony.
Patterns
Any sort of pattern is going to create immediate visual interest, even if the tiles are similar in texture to the rest of the kitchen.  Small tiles, creating more lines and depth between tiles and grout, can give your backsplash a textured look, which sets it off quite nicely from smoother countertops, cabinet finishes or appliances.
A Variety of Elements
If your entire kitchen is one material, be it solid surface, granite, laminate or anything in between, it can all look a bit "samey".  Wood, stone, metal, glass – there's a whole world of options out there that can add splashes of different textures to your kitchen.  Wood flooring or window trim is a great way to set off stainless steel appliances.  I'm personally a fan of natural brick or stone, either as a fireplace or backsplash, to create a similar effect.
Bells and Whistles
The little details can be a great place to add texture without overhauling your entire kitchen plan.  The legs and feet of tables or chairs, the corbels atop your cabinets, the trim of your kitchen island – all are great opportunities to add texture and detail to your kitchen.  These are more prevalent in traditional kitchen designs as opposed to modern ones, but are a great way to give your new kitchen some character.
The experts at Solid Surface Canada can help you with all your kitchen needs, with beautiful solid surface countertops and applications.  Check us out today!