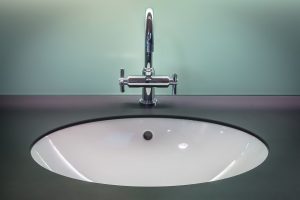 When picking a new surface for your kitchen or bathroom sink, we highly recommend solid surfaces.  If you're looking for a wide range of performance abilities, a selection of different looks and designs to choose from and a reasonable price tag, solid surface is simply very difficult to beat.  It is absolutely perfect for your next sink replacement.
First of all, solid surface is seamless.  It can be integrated into your solid surface perfectly, without obvious seams, joints or other connections. The seamless joints look amazing, as your entire room ends up looking like one continuous piece, but this isn't just a positive because it looks good.  No, the lack of seams and cracks means that your surfaces are much easier to clean.  You don't get bacteria or mildew growth because there are no cracks and crannies for them to spread into.  That makes it an exceptionally hygienic option, especially compared to natural marble or other surfaces.
Secondly, you get a wider variety of colors and styles when you pick solid surface.  When you pick a natural sink material, your choices are generally limited to the natural colors of the rock.  Even materials like stainless steel just come in one basic color.  Solid surface, on the other hand, has an entire range of styles and colors to match any room's requirements.  No matter what color or design scheme you're planning on using, solid surface has a match for you.  Your customization options are drastically improved when you use solid surface.
Finally, solid surface is both durable and renewable.  Solid surface isn't as fragile or brittle as porcelain or ceramic, making it less likely to break and scratch.  It is somewhat more likely to scratch than those materials, but that's where solid surface's real benefits shine.  Any stains or scratches can be buffed or sanded right out – solid surface is continuous, meaning the color and pattern stays the same throughout the entire depth of the material.  That makes any repair a very easy task.
Consider solid surface for your next sink!  You won't be disappointed.