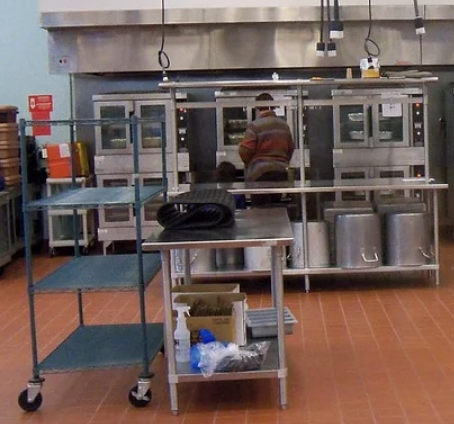 When you need stain-resistant antimicrobial commercial kitchen counters, look no further than solid surface countertops. In 2020 your kitchen renovation needs a durable material that is easy to sanitize and versatile for any professional restaurant or healthcare space. Discover why solid surface remains the best option for the commercial kitchen.
Stain Resistant and Antimicrobial Protection
Commercial kitchens must maintain a very high level of cleanliness and sanitation. Solid surface does not support bacteria growth. Whether in a healthcare setting like a hospital or doctor's office to gyms and restaurants, solid surface delivers the perfect antimicrobial stain resistant surface every time. Don't worry about grease, permanent marker, hair products, or even graffiti affecting your surface when you plan your next kitchen renovation. Use solid surface.
Solid surfaces have a wide range of incredible benefits, including:
NSF/ANSI Standard 51 certification, safe for food and restaurants
Renewable Surface
Greenguard NSF Indoor Air Quality Certification
Invisible seams, no sealing or painting required
No shrinkage Cracks
Transfer images onto the surface for decoration
Versatility
Hundreds of colors, designs, and patterns
Thermoformable
Outdoor use
Resistant to trisodium phosphates, mild acids, and most common chemicals
With restaurants, medical facilities, gyms, and other establishments needing to keep to serious health guidelines, you need the best countertop material. You need a material that promises to last for years with little maintenance. You need solid surface.
Attractive and Durable
Besides being a safe option for your establishment, find the right color, design, or pattern for your facility. Solid surface comes in an astonishing array of gorgeous colors and patterns. Choose from hundreds of beautiful colors, granite finishes, swirl patterns, veining, and more. Inspired by nature and modern design, solid surface patterns and colors fit with any kitchen décor. Find the right design for you.
Call the Solid Surface experts today. We offer the best in customer service and solid surface design. No matter your budget, we promise to find you the materials and products you need. Contact our team at Solid Surface. Our friendly staff will be happy to answer your important questions. Set up your consultation today.