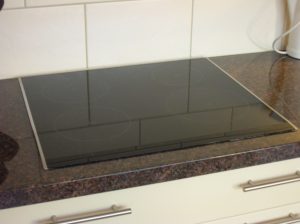 Redesigning your kitchen isn't just a matter of form – function must be taken into account as well.  And one of the primary functions of your kitchen is for cooking!  The choice of primary cooking element in your kitchen is a very important one.  Many homes choose an oven with a built in stovetop, but this is far from the only choice out there – stand-along rangetops and cooktops are solid options as well, and will impact how you choose to have your countertops installed.
Rangetops and cooktops allow you to have a more flexible kitchen layout.  Because they don't have to be in the same place as your oven, you get more customization on how your kitchen will end up working – you might place the oven relatively out of the way in the corner, with the cooktop closer to prep areas and the pantry, for example.  But cooktops and rangetops are not synonymous – there are several key differences between the two, each with its own benefits and drawbacks.
Rangetops slide in, interrupting the flow of your countertop entirely.  The countertop ends, the rangetop is slid into place, and the countertop will continue on the other side.  Cooktops, though, are set in.  It requires you to cut out a section of a countertop and place the cooktop inside – so it will be surrounded, on three or four sides, by countertop.
This generally means cooktops are a bit easier to install – your countertops are installed normally, and then a precision cut is made for the cooktop.  Rangetops require countertops to be finished on either side, which can be a bit more work.
It also alters where the controls go.  Rangetops generally have their controls on the front of the appliance, like you'll see on your standard stovetop.  Since they take up a whole unit of "countertop" space, it makes sense for the controls to be in the front – there's no need to reach over a hot burner to make an adjustment to temperature, for example.
Cooktops, on the other hand, are surrounded by countertop.  Generally speaking, that means they place their controls at the top of the unit.  The idea is to continue the sleek, minimalist approach, rather than interrupting the flow of your countertops with cooking equipment.  The tradeoff, of course, is that the controls can be harder to reach.  Which type of control you choose will depend on what you're comfortable with in your cooking style.
No matter if you choose a cooktop, a rangetop or a traditional stovetop, the expert craftsmen at Solid Surface.ca can ensure a perfect fit with your countertop choice.  Call us today!