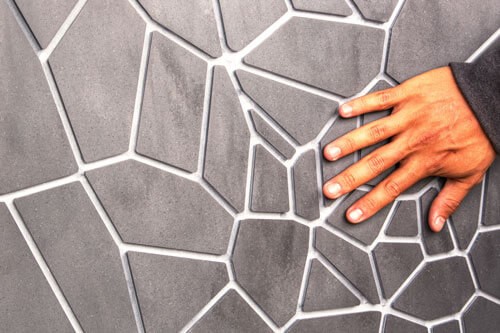 If you're reading this article, there's a good chance that you are at least familiar with Corian and its unparalleled performance as a kitchen countertop surface.  If not, then I'll just say that Corian is tougher, easier to clean, and more stain-resistant than any other popular kitchen surface, such as marble, granite, or laminate.
But kitchen countertops are only a portion of the story.  Before we dive into the many uses for Corian, let's first take a look at the critical process known as thermoforming.  This is the process through which the polycarbonate material is heated until it becomes pliable and can be formed in a mold to make specific shapes.  For example, when Corian is used as a kitchen counter surface, thermoforming can raise one end of the surface to create a seamless backsplash with no crease or joint.
But that's just the tip of the iceberg.  Here are some other uses for Corian that you may not know about.
Corian charging surface
Corian textured walls
Corian sinks
Let's take a quick look at each one of these.
Corian Charging Surface
Simply stated, through the use of a power transmitter placed on the underside of a Corian countertop, you can wirelessly charge your smart device by simply setting it on the solid surface above the transmitter.  To be clear, the entire surface does not become a charging area.  But for the space directly above the transmitter, the surface acts as a conduit for the energy and can get your device up to full power just as quickly and efficiently as a standard wall charger.
Corian Textured Walls
This is an incredible advancement for the world of interior design.  With Corian textured walls, a room no longer has to be confined by the limits of drywall and colored paint.  Instead, an entirely new world of possibilities is opened by adding the sensory element to the design.  The possibilities are endless, and it's definitely worth a quick Google search to see what's out there.
Corian Sinks and Lavatories
Lastly, here's an idea that seems obvious but is often overlooked:  Sinks.  Yes, the primary consumer use of Corian is as a solid surface countertop.  But with the curved shaping allowed by thermoforming, Corian makes an excellent material for sinks and lavatories.  And remember, this material is nonporous.  Which means that not only is Corian highly stain resistant, but also it does not inherently promote the growth of mildew and mold.  But as with any sink, it should be kept hygienic with regular cleaning.
The main point to remember is that Corian has nearly limitless applications.  And thanks to the process of thermoforming, shapes, sizes, and designs create an entire world of possibilities.  How can Corian help with your next project?