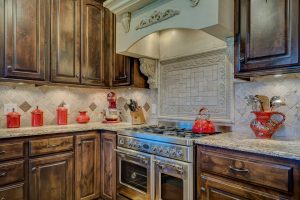 An "L"-shaped kitchen layout is one of the best out there.  It's extremely functional, with everything in easy reach, and it works well with open floor plans, which is the "in" style at the moment.  It's one of the best layouts to start working with, as its basic function and shape are ideal for an attractive, functional space.
That doesn't mean you can't improve it, however!  The experts at Solid Surface Canada have some great suggestions on how to take your "L"-shaped kitchen to the next level:
Customize Your Work Triangle
The "kitchen work triangle" concept states that the main kitchen appliances – your refrigerator, stovetop and sink – should be within a few steps of where you prep the food, forming an efficient and accessible triangle.  Well, that's true for most people, but perhaps not for you.  Maybe you don't use your oven very frequently – it might be the microwave you want close at hand.  If you find yourself not using your oven, or rarely using your stovetop, you can move them out of the center of your kitchen, putting regularly used pieces of equipment within arm's reach.
Raise Your Cabinets
Running out of storage space?  Most kitchens have tons of extra room, just waiting to be exploited – there's a gap between most cabinets and the ceiling.  For an "L"-shaped kitchen, where storage is often at a premium, extending those cabinets up to the ceiling is a great way to add that little bit of extra storage.
Open Shelving
An "L"-shaped kitchen involves a lot of wall space, as it bends around a corner.  Sometimes, two walls worth of solid cabinets can be difficult on the eye, or a problem for decorating.  Replacing some cabinets with open shelving can create better visibility and break up that wall of cabinetry.
Upgrade Your Countertops
Of course, the best upgrade for any kitchen is putting in brand new solid surface countertops.  Corian, Avonite, Formica – no matter what you have in mind, Solid Surface Canada can help.  Contact us today!