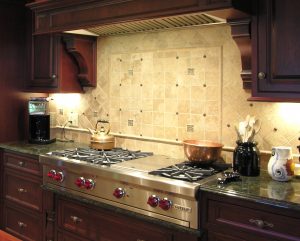 For understandable reasons, the majority of time planning a kitchen renovation or remodel is spent on the major aspects of the remodel – the cabinetry, the countertops, the appliances and so forth.  That makes sense – they're the big-ticket items and the most important to get right.
Once those are set, however, you want to add your own finishing touches – you want to add details that makes your kitchen unique, and help it to stand out from the rest.  There are plenty of ways to add this extra oomph factor with minor changes and adjustments, giving your kitchen more personality and adding to the value of your home.  Here are 3 quick and simple ways to add detail to your kitchen.
Crown Molding
The molding provides a transition from your cabinets to the ceiling – a little visual flourish with touches of elegance.  It draws the eye up to the ceiling, giving the impression that your home is well-crafted and solid.  If you're installing new cabinets anyway, it's a relatively simple addition to add crown molding – it doesn't even need to touch the wall to create an elegant look.  Whether you use it to add space between the cabinet and ceiling by placing the molding at a different depth than your cabinets, or custom-design it so the cabinets appear flush with the ceiling, crown molding is a classic touch of detail.
Splash of Color
Most kitchens will be neutral in hue – your basic whites and earth tones.  Picking too garish of a color for your central theme can give you eyestrain when you have to spend time in your kitchen!  However, for the less-permanent, movable kitchen accents—think chairs, dishes on open shelving and lighting fixtures – a splash of bright color can really liven up the room.  Picking, say, lime green for your countertops may not be ideal, because you're stuck with it until you remodel your kitchen again.  But a bright color for detail here and there can add a little bit of extra zest to your kitchen.
Glass Doors
One way to get that splash of color is with brightly-colored dishes and decorative pieces, and one way to display them is in cabinets with glass doors.  Replacing traditional solid-panel fronts with glass allows your choices in dishware to play a part in the overall look of your kitchen.  There's a wide variety of types of glass to choose from, as well – fully transparent, frosted, stained, and so forth.  Glass also gives your kitchen the appearance of more space, which is great for smaller kitchens.