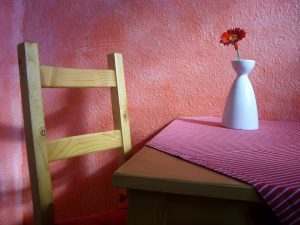 According to a recent study, the average person spends an average of a little over 100 minutes in the kitchen every day.  Whether you're cooking, eating, drinking, cleaning or just entertaining guests, the kitchen is one of the most active rooms in your home.  It's important, then, to make it comfortable!
For your kitchen to be truly functional, you need somewhere to sit – something comfy and effective for allowing you to rest.  Sure, in smaller kitchens, this may end up being some seating placed immediately adjacent to the kitchen.  However, no matter the size or layout of your kitchen, seating is essential.  Here are some possibilities:
A Loveseat
Solid-surface kitchen islands are great additions to any kitchen, and you can get even more use out of them by making it a central place to sit and relax, as well.  As opposed to a raised bar, kitchen islands are often lower and more table-like, allowing you to use more conventional seating options as opposed to bar stools.  A comfortable loveseat, in whatever style best matches your kitchen's décor, is a great way to say that the kitchen isn't just a work space, but a space for relaxation and enjoyment as well.  We recommend using an outdoor fabric, as spills do happen in the kitchen, but all in all, a loveseat can be an ideal option.
Bar Seating
Many modern kitchen designs feature raised bars and countertops, making them ideal placement for elevated stools or chairs.   When picking raised stools or cocktail-style seating, remember that comfort comes first.  Many people go overboard, buying chairs that look great but simply aren't comfortable to sit in for extended periods of time.  If you can't imagine actually sitting in your seat and having a full meal, then you don't really have a chair – you have a floor space-eating objet d'art.  Try before you buy!
Breakfast Booth
If you're doing a full kitchen remodel, and there's enough space to bump a wall a little further out, then you can create the perfect breakfast nook!  These alcoves are perfect for diner-style booth seats – they're comfortable, fit snugly into the nook, and are great option to squeeze as many as four people into a fairly limited space, rather than having seats surrounding a table.  If you have the space to create a nook like this, it's a great way to add seating to your kitchen without eating up any of the functional space you need.  It's a great solution!
For islands, breakfast bars and everything in between, trust the experts at SolidSurface.ca!