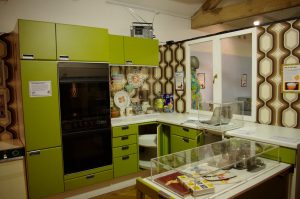 Most of us don't redo our kitchens every few years, so the primary goal in a major redesign is timelessness.  You don't want your kitchen to look like a relic from a bygone era; you want to stick with ideas and concepts that have stood the test of time and are likely to continue to look great for years to come.
The latest trend may seem great, but be careful – some "latest trends" quickly become ridiculous looking.  As an example, here are some dated designs that were once considered hip and trendy, and now are regrettable.
Dark Brown Wood
Deep, dark brown cabinets can still work in some more classic and traditional kitchen designs – when you're trying to evoke an older era.  But modern kitchens dump those in favor of lighter and cleaner choices.  Dark colors make spaces feel more cramped and dark.  You can still have a warm, inviting kitchen without going into the darkest colors of the rainbow.
Bright Cabinet Colors
In general, you're better off using neutral colors for the large, dominating parts of your kitchen – the countertops, the cabinets, the big appliances.  Save the neon greens or the sunshine yellows for accents and accessory pieces – they provide those splashes of color without dominating the room, and can be replaced or repainted easily as trends change and colors fall in and out of fashion.
Florescent Lighting
In the 1980s and early 1990s, big, fluorescent light boxes were the trendy thing to install.  Now, they look garish – and bad lighting can make every other aspect of your kitchen remodel look worse.  Terrible!  Utility and ambient lightning – with dimmers – are much more practical and can easily be integrated into any kitchen design.
Linoleum
The best you can really hope for with linoleum flooring is a kitschy, throwback, retro look.  More likely, you'll get faded, stained and outdated looks quickly – and it's probably just going to hide a perfectly fine wood floor.
From avocado green walls to shag carpeting, what's "in" one day may soon be well on its way out.  We recommend sticking to classic, timeless designs, so your kitchen will continue looking it's best for years to come.