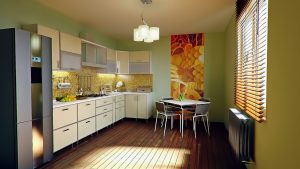 When selecting a color palette for your new kitchen, it all comes down to personal taste. There are many ways to create a welcoming environment and color is just one of them. Here are the top 5 kitchen color trends this year and ideas on how to achieve the look you want in your kitchen.
1. Bold Colors
Go big or go home with color. Whether it's neon green, apple red, or deep blue, one of the top kitchen color trends includes pops of color. The nice thing about this trend is you get to decide just how much color is included in your kitchen. And, you can start high or low. Color on the ceiling is certainly a bold move, but one that can separate your kitchen from others. If you're not sure about being that daring, opt for accent walls, kitchen cabinets, or even a bit of color in your tile.
2. Earth Tones
If you want color but are nervous about making too bold of a statement, then opt for earth tones. Natural browns and tans help create a warm environment in a kitchen. This color choice is easiest seen in kitchen cabinets. Choose natural woods and instead of painting them, stain them. This way the wood grains are accented and become the focal point of the whole kitchen.
3. Gray Tones
While beige once reigned supreme, it has now been taken over by grey. There are many shades of grey, from light off-white to deep storms, so choosing gray again comes down to taste. This neutral pairs well with other bold colors and can help make your kitchen seem open. Gray is one of the kitchen color trends that will stick around for a while.
4. All White
An all white kitchen remains one of the most classic of kitchen color trends. All white signifies space, cleanliness, and openness. At the same time, it also creates a welcome feel to the kitchen. The really nice thing about an all white kitchen is that you can easily add pops of color if you want to change the décor around. This means that as your tastes evolve, you can add different lighting fixtures or accessories and change your kitchen without having to invest in a large renovation.
5. Metallic Accents
Metallic accents is one of the hottest kitchen color trends right now. While chrome and stainless steel have always been kitchen favorites, new metallic choices are also emerging. Copper is big and can be seen in copper mugs and copper pots and pans. Gold is also a popular trend and can be seen in many kitchen accessories. Metallic accents bring a lot style wise, so use them carefully. They are best used in small amounts to as to not overwhelm the existing décor.