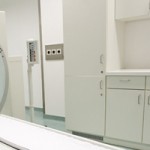 Healthcare facilities must adhere to a rigid set of criteria regarding building materials both during general construction and the build out. Because people's lives are at stake there is no fudging the rules or cutting corners. Materials must meet established standards or they won't make the cut; simple as that. When it comes to hospitals, clinics and doctor's offices the challenge facing architects and healthcare professionals has long been to find a material for countertops that will allow for the maintenance of a safe, sterile environment. In this post we'll look at several reasons why solid surface may be the perfect clinical building material.
The Impressive Value of Solid Surface for Healthcare Environments
Solid surface for healthcare environments has a number of advantages over other types of countertop material. These advantages include the fact that:
It's Hygienic – Healthcare environments need to adhere to rigorous standards of safety and hygiene. Due to their non-porous nature solid surface countertops give bacteria and mold nowhere to hide making them an ideal fit. The dangers of bacteria are well known but mold can be extremely insidious too; lurking in the seams of old countertops and sending out spores that can create serious respiratory and even heart problems.
It's Durable – Cracks and chips in other materials can become home to bacteria and mold colonies just as counter seams can. The danger is even greater in the shower area due to the elevated moisture levels. The even density engineered into solid surface products means they're not nearly as susceptible to day to day damage as other materials and make not only ideal countertops but ideal shower floors as well.
It's Low Maintenance – Solid surface for healthcare cleans up easily and because of its non-porous nature it stays clean until you're ready to use it again. The same goes for solid surface flooring in the shower area. A regular wash down with soap and water will keep them sparkling and provide ample evidence to anyone using the shower that it's free of potentially harmful mold and bacteria.
It's Easy to Repair – While man made solid surface floors and countertops are more resistant to incidental damage than their natural counterparts that doesn't mean they're indestructible. However, should you find your solid surface countertop has become chipped or scratched it can be easily renewed by a qualified solid surface craftsman. No such option is available to those with natural stone countertops.
Other benefits of solid surface that make it ideal for use in healthcare settings include:
Less glare than natural stone
Overall cost effectiveness
Ease of installation
100% non-allergenic
A plethora of optional looks
Countertops of solid surface for healthcare settings create safe, attractive environments for patients and healthcare professionals. No more hours of scrubbing exam room countertops and shower floors chasing mold and bacteria. If you'd like to learn more about installing hygienic, affordable solid surface in your healthcare facility or office call the professionals at Solid Surface.ca. We'll be glad to answer any questions you may have.