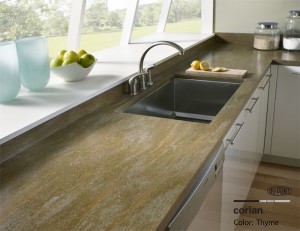 Corian countertops were the first solid surface product to hit the market back in the late 60s. They represented a significant breakthrough in countertop materials because not only were they man made and more affordable than natural stone but they were/are completely non-porous; hence the name 'solid surface'. But while companies that sell and install solid surface are well aware of its attributes many consumers remain in the dark. In this post we'll try and shed some light on what makes solid surface such a great deal when compared to the competition.
Corian countertops: How They Stack Up
While there are many brands of solid surface countertops today we're going to confine our discussion to Corian and how it compares to its primary natural stone competitors. Let's get going.
Durability – Granite, quartz and other natural stones are prone to chipping and cracking due to their composition. Solid surface by contrast is engineered to be the same density all the way through making it less likely to chip or crack. Both solid surface and natural stone are easy to clean though you'll need to reseal granite and other stones at least once a year.
Porous vs. non-porous – Perhaps the defining characteristic of solid surface Corian countertops is that they're non-porous. They won't absorb spilled liquids of any kind. This gives Corian a major advantage over quartz, marble and other natural stones that need to be watched carefully in order to avoid leaving stains that can wind up permanent countertop features.
Maintainability – Granite and marble are beautiful but woe unto you should someone put a ding or significant scratch in the surface. You'll basically just have to live with it. With solid surface scratches, even fairly deep ones, can be buffed out along with knicks and small chips. The ability to refresh the surface in this fashion is another major advantage of solid surface.
Seamless Integrated Sinks – While in recent years stone fabricators have found ways to create integrated seamless sinks using granite, soapstone and other natural stones it's still far easier to achieve this smooth, timeless, in demand effect using Corian or another type of solid surface countertop material.
Adaptability – While natural stone can be carved to a certain degree solid surface Corian can be made to serve whatever design or decorative task you set out for it. You can engrave it, sculpt it, sandblast it, carve it and more. The fabricator can also bend it by the precise application of heat and force to create virtually any desired shape. Try bending granite.
It's likely that natural stones like granite, quartz and marble are not going out of style any time soon and that's fine because in certain cases you want marble or granite. Most homeowners however are better served by having an affordable, versatile alternative to fall back on when both the cost and limits of natural stone become obstacles. Talk to the professionals at Solid Surface.ca and find out more about how beautiful, durable Corian countertops can benefit your home.