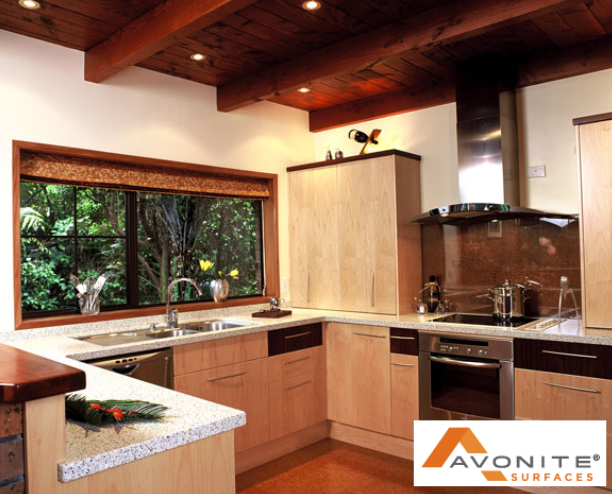 What are the hottest kitchen trends in 2022? This year expect a return to bold colours, beautiful patterns, and stunning surfaces. This year homeowners will combine their love of modern kitchen cabinets and countertops with a more whimsical aesthetic. They will embrace the practical with the fun, truly showcasing their personal unique taste. 
Bold Statements
This year expect kitchens to range from adorable pink to sunflower yellow. Combine stunning backsplashes, brightly coloured kitchen cabinets and countertops, and unique accessories to give your space a unique look. Solid surface countertops offer a wide variety of colour options. With almost limitless choices, you can find a countertop that will match any colour scheme you want. Homeowners today want to make a strong statement in their kitchen. Gone are the bland white kitchens of yesteryear. Instead, embrace your personality, embrace your uniqueness! 
Smart Lighting
Another way to modernize your kitchen is to embrace smart lighting. Custom lighting design adds extra functionality and brightness. Additionally, program lights to adjust for daytime or perhaps set a mood. Select from a variety of chandeliers, sconces, and artisan lamps. Make a dull dark room beautiful and inviting. Additionally, smart lighting gives extra security for families with older adults or children. Installing the right lighting can truly transform a room.  
Sustainability & Durability
Many homeowners value sustainability and quality. This year homeowners will choose long-lasting easy-to-maintain options like solid surface countertops and sustainable materials. Manufacturers like Corian, Avonite, and Formica provide durability and style, perfect for every home. Solid surface is also heat-resistant and easy to clean, meaning that they will last for years to come.
Accessible Storage Options
Your kitchen looks less cluttered with smart innovative storage options. From kitchen islands with hidden compartments to a variety of custom cabinet options, you have many choices to reduce the mess. Don't forget about installing cabinets that work best with your family members.  
Oven Power
Update your antiquated oven with a new high-end appliance. Choose an oven with a spacious interior oven cavity space. Newer ovens use smart technology to help ease cooking, ensuring an even bake throughout the oven. Don't feel like you can't splurge on your oven. You will love the difference a new oven brings.
Easy Maintenance Matters
You want a kitchen you can clean easily. Choose options like solid surface countertops and modern tiling to reduce maintenance. Replace old outdated appliances with newer ones. Choose materials like solid surface that is not only easy to clean but remains a sterile place to prepare food.  
Find the Right Countertop Today
When you start your kitchen remodel, contact the countertop experts at Solid Surface. For years we have provided the best materials and workmanship. Enjoy an easy installation. Check out our impressive collection of solid surface options. When you need to upgrade, Solid Surface can help you each step of the way. Contact us today.