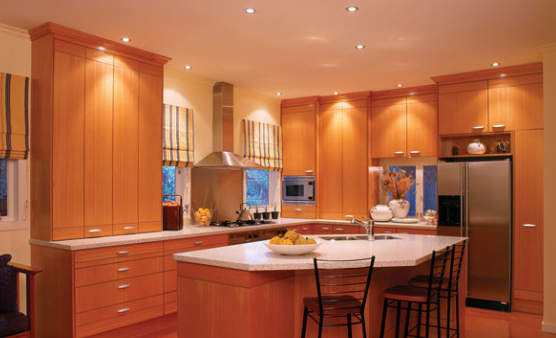 It's finally autumn! Crisp cold air, the changing of the leaves, and the wonderful smell of apple pies and pumpkin bread baking in the oven – what a wonderful time of year! Time to update your kitchen with a seasonal modernist kitchen design. Avoid the typical fake plastic pumpkins and fall wreaths, instead, embrace contemporary design trends that make your home welcoming and warm this autumn.
Embrace Warm Earth Tones
Summer is done, and with it comes the natural change of seasons. The leaves turn to gorgeous golden yellow, orange, and scarlet hues. Take the time to incorporate these warm tones in your modern kitchen design by adding natural touches here and there. Think of warm earthy tablecloths and centrepieces, cinnamon cloth napkins, and copper dishware. Think tones that remind you of nature, muted tones of mushroom, greens, and camel. Transform your colour palette into a glorious rainbow of fall.
Natural Wood
Replace old cabinets and countertops this autumn. Consider natural wood tones for kitchen cabinetry and trim. Lighter wood tones complimented with neutral solid surface countertops make a great change to a drab outdated kitchen. Another great update? Expose the wooden beams in your kitchen. Some staining and remodelling can transform your space.
Autumn Artwork
Adorn your kitchen walls with original autumn-inspired artwork. Look for abstract modern paintings with warm earthy tones, patterned art pieces, and even handcrafted clay pottery. Search your local artisan market and craft fairs for unique pieces. Avoid mass-produced artwork. Instead support regional artisans and painters by purchasing their works. Make your new pieces a focal point. Original art makes an excellent conversation topic.
The Smells of the Season
No autumn makeover would be complete without giving your guests a pleasant sensory experience. Whether you choose large spiced candles or a gentle infusion of vanilla and apple, always add a touch of scent to the kitchen. Your family will love the cozy comfort of autumn scents.
Maximalist Trends
If you are tired of the drab neutrals of Minimalism, you might want to embrace the glorious boldness of Maximalist modern decor. Maximalism literally means adding more of everything you absolutely love. And in the fall, that means more – more warm tones, more wooden pieces, more wall art, more patterns, and just more of everything autumn! From patterned wallpaper and colourful earth tone backsplashes to abstract artwork and mismatched furniture – embrace "more is more"! To tie in the overall theme, keep to a specific fall palette – golds and reds, for example – to keep some consistency. You will love the bold expressive freedom of truly embracing wild eccentricity.
When you want to remodel your kitchen and need new solid surface countertops, contact our team at Solid Surface Canada. We promise to provide you with excellent customer service and high-quality solid surface countertops. Contact us at any time to set up your initial consultation. Call us. Our team is ready to help you.