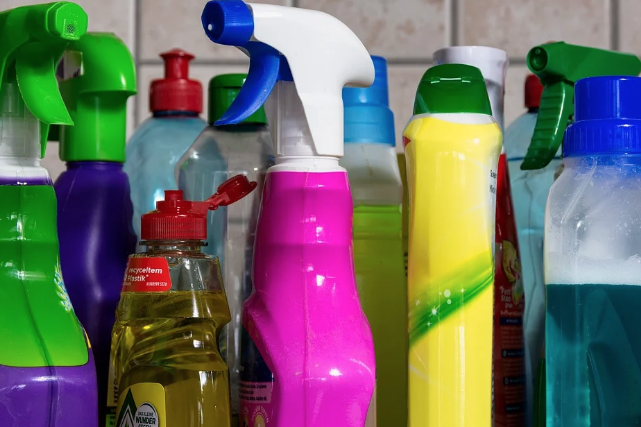 Your kitchen is the heart of your home. It's where you cook, entertain, and feed your family. Keeping your family safe and clean from bacteria and viruses keeps your family healthy and safe. Whether you have solid surface, marble, or laminate countertops, find out right now how you can keep your kitchen germ-free.
Clean Your Kitchen Daily
This may go without saying, but you need to clean your kitchen daily. If you have porous surfaces, you need to watch for growth of bacteria, mold, and viruses more vigilantly. Non-porous materials like laminate countertops require less maintenance.
Clean regularly with disinfectant wipes. Some materials need just a soft towel and regular soap. Because viruses and bacteria may stay on surface for hours or even days, regular cleaning will ensure that you eliminate germs from your home.
Here is a simple breakdown of recommended cleaners for each type of countertop. Be sure to print this list and keep it in your kitchen for easy reference:
Solid Surface: Clean the solid surface countertop using a gentle microfiber cloth. Wipe the countertop each day. For stains, avoid harsh cleaners. Instead use mild dish soap with fresh water. Avoid water spots by using a towel to dry any moisture. You can also use glass cleaner or ammonia on solid surface countertops.
Laminate: Use dish soap and water. Use a microfiber cloth or clean soft cloth. Wipe down the counter daily. Rinse the cloth in fresh water.
Quartz: Wipe down each day. Use washcloth dipped in soapy warm water. Rinse in clean water. Wipe away any soap.
Marble: Use a marble cleaner. If you do not have marble cleaner, then use a non-abrasive dish soap. Use warm water in a spray bottle. Cover the marble with water and scrub very, very gently. Wipe any water with a soft cloth until all water is wiped up.
Corian Countertops: Use an ammonia based cleaner. Do not use window cleaner. Clean with a damp cloth. Use a circular motion.
How to Disinfect Your Kitchen
Bleach works great on almost all surfaces. Bleach works well on quartz. However, your laminate, Formica, and older vintage countertops might be damaged by bleach. If you combine diluted bleach with 70% isopropyl alcohol, most viruses and bacteria will be eliminated, according to the Centers for Disease Control.
Should I Use Vinegar?
While vinegar does clean to some extent, vinegar will not eliminate viruses and bacteria. If you are looking to disinfect your kitchen, opt for disinfectant wipes, bleach, and similar cleaning products.
Wash Your Hands
Don't forget to wash your hands after cleaning and disinfecting your kitchen. You can use disposable gloves if you want. However, regular soap and water will do.
Other Cleaning Tips
Here is a short list of other ways you can disinfect your kitchen. Eliminate bacteria, fungus, and viruses.
Disinfect nonporous food containers like glass and metal with disinfectant wipes
Move foods to clean containers
Run dishwasher on sanitizing setting
Leave newly bought packages out of the way for a few days before use
Rinse all produce
Always wash your hands, especially before serving food or when doing food prep and cooking
Encourage family members to wash their hands
Keep clean towels in the kitchen for hand use
Disinfect any utensils or cutting boards that come into contact with raw meat or raw eggs
Replace outdated cutting boards
Contact the Counter Experts at Solid Surface Canada
Ready to replace or refurbish your outdated countertop? Trust the experienced experts at Solid Surface Canada. We pride ourselves on the best customer service in Toronto. Solid Surface Canada has the widest selection of countertops, custom store fixtures, custom cabinetry, kitchens, dental cabinets, and so much more. Call us today. We are ready