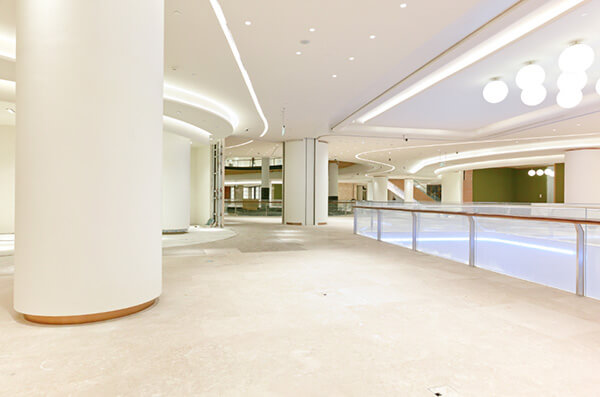 If you've ever been to Paris, chances are you've strolled through the Galleries Lafayette. You probably didn't buy anything, but it was nice enough just to see how the other half lives. Galleries Lafayette has expanded into Shanghai, China, and with it, they have brought solid surface to create the high end retail look you all know and love.
Crisp aesthetic
High end retail is all about presentation. Clothes are sparser and hung on individual racks. It's not about bulk buying as it is about buying signature pieces. There is an eye for every detail, and that includes the architecture within the building itself.
Solid surface is able to create whatever look you want. No matter what color or design, there is a sold surface for you. It's lack of lines also makes it appealing. Who wants to see where two pieces were fused when you can just see a seamless countertop instead?
Wall to wall to wall
Inside the Galleries Lafayette in Shanghai, solid surface can be found in so many areas. The giant columns that anchor the store are all made from solid surface in an elegant glacier white color. The retail countertops allow you to complete your purchase with that same regal look as when you walked through the door. Even the elevator cladding uses solid surface for that seamless, high end look.
Time to rest
Every inch of the Galleries Lafayette was constructed with detail which makes it no surprise that the washrooms were, too. Inside all the washrooms and the nursing room, solid surface is used for an elegant look. The seamless countertops ensure that you never forget that you are indeed inside a high end place.
A window to the heavens
If you aren't completely bombarded by the beauty inside the Galleries Lafayette, take a moment to look up. Atop the main arcade is a showstopper skylight. This window to the heavens is made possible because of the Corian solid surface cladding. Together with fluid LED light bands, you can look out on the night sky and feel truly humbled.
Into the future
What is really impressive with the Galleried Lafayette in Shanghai is that Corian solid surface is most definitely a path to the future. Instead of trying to use existing materials to fit a project, solid surface allows architects to create their own design. There's no more playing around and altering plans. Instead, whatever look you want, you can get.
This may seem a bit daunting if you plan on using Corian solid surface in your own home. But the point is that its versatility means that no matter where it is used, solid surface will make a giant impact.