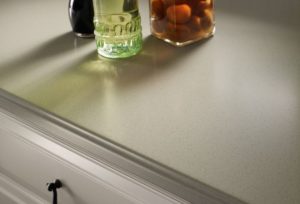 When you opt to install kitchen countertops, there are dozens of different kinds of surfaces to choose from.  One of the most popular is a solid surface, like DuPont's Corian or other similar brands.  The man-made surface has several significant pros over more natural countertops like granite or marble, though it comes with its drawbacks as well.  Here are some solid surface countertops pros and cons to help you make your decision.
Pro: Solid surfaces are durable
Manufactured to the highest standards, solid surface countertops can remain in place for decades with proper installation and occasional maintenance.  They resist impacts, stains, mold, mildew and bacteria better than natural surfaces; they're engineered to last a long time, and specially designed to better resist wear and tear than natural surfaces.
Pro: Many choices for style and color
Because it's manufactured, you can get a solid surface countertop in nearly any color or style you can imagine.  There are dozens of colors readily available—everything from mimicking a natural feel of concrete or marble to bright, unique colors to give your kitchen or bathroom its own custom feel and shine.  You can find a color or pattern to match essentially every architectural style or design choice you can imagine.
Con: Solid surfaces can scratch easily
Granite or marble are very difficult to scratch, as they're some of the hardest substances in nature.  Corian or a similar artificial surface, however, is somewhat vulnerable to being damaged if you use sharp knives directly on its surface, rather than on a cutting board.  Similarly, hot pans can also damage your solid surface countertops, leaving burn marks and other imperfections more easily than on natural surfaces.
Pro/Con: Standard Colors
Every piece of marble is unique, so you know that your countertop will be one of a kind.  Solid surface countertops, almost by definition, are mass-produced, so while there are plenty of colors and patterns to choose from, it won't really be unique—someone out there will have the same pattern and color you do.  That can be a negative if you want a really unique signature look for your countertops.  On the other hand, if you have to replace a section of a marble countertop, it's very obvious, because you won't be able to find another piece that exactly matches the damaged section.  With something mass-produced like Corian, you can be sure that you'll get an exact match if you ever have to replace anything, keeping the look of your kitchen or bathroom consistent.
A solid surface brings a good balance of good lucks, performance and cost efficiency to your home.  They're definitely one of the most versatile options you can pick when making your countertop selection.