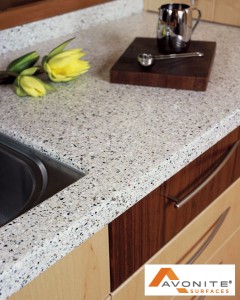 "Solid Surface" is a man-made material commonly used for countertops in both residential and commercial settings. Due to its ability to mimic the look of natural stone like granite it generated great demand right from the time of its introduction in 1967. Today Corian, Wilsonart and other brand name solid surface countertops account for a significant percentage of the countertop business. In spite of its popularity however, care must still be taken when purchasing solid surface in order to ensure you get a top-notch product installed by solid surface experts. In this post we'll take a look at some of the questions you'll want to pose to solid surface companies before picking one.
Solid Surface Countertops: Clarifying the Purchasing Process
While plenty of home design and decoration trends have come and gone in the days since Corian first hit the market solid surface has retained and even expanded its market share. Still before you decide to plunk down your hard-earned on solid surface countertops there are a few questions you'll want to ask the prospective seller/installer.
How long have you been installing solid surface? – Installing solid surface requires a slightly different skillset than installing granite, quartz or marble. If the seller/installer has little or no experience installing solid surface it's easy for them to make mistakes with the details or possibly damage the material in subtle ways that may invalidate your warranty.
Do you sell Acrylic or Polyester Solid Surfaces? – This is a distinction many people are not aware of but it's important to ask about in order to ensure you're getting what you want. In short, polyester-based solid surface is more brittle than acrylic and more likely to chip or crack. Acrylic by comparison exhibits greater tensile strength and can be reshaped (that is, bent under heat) to fit almost any application.
Can I keep the waste material? – Typically when installing a solid surface countertop the installer will need to cut a hole in the slab to make room for the sink. Ask them if you'll be allowed to keep the cut-out. Why, you say? Because the cut-out can be fashioned into a matching cutting board. Some companies will ask you to pay extra, though many will not.
What kind of warranty will I get? – You should get a generous warranty from the manufacturer on the solid surface itself but you'll also want a warranty against defective workmanship. That's because if the installer messes up the installation in some way that compromises the material it will likely void the manufacturer's warranty, under the "physical abuse" clause.
Solid surface countertops are the affordable alternative to prohibitively expensive natural stone like granite. But they're more than that. They're also a design element of extraordinary flexibility and a sure fire way to add the finishing touch on any kitchen or bathroom remodeling project. If you're in the market to replace your countertops you owe it to yourself to investigate this incredible material. Contact Solid Surface.ca in Toronto on 416-346-5612 to find out more.