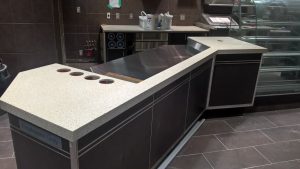 We've just finished a major renovation project, and we're excited to share the results with you!
Would a morning be complete without a trip to Tim Hortons?  Coffee and doughnuts are the perfect way to start the day, and we know we're not alone in that – everyone needs their double doubles in the morning, right?
Recently, some older Tim Horton stores have begun to be upgraded.  As part of the renovations, they're being renovated to look more like a coffee house; a more upscale, modern look.  That's great, and a boost for business – but it's difficult to serve customers when your building is being renovated!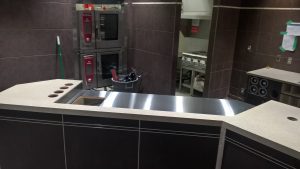 This was a problem for the Tim Hortons on Front Street in downtown Toronto.  A closed store means a huge loss of daily revenue, especially for a store in a prime location just outside the Rogers Centre.  They wanted to have their renovations done well, but quickly, so they could open as soon as possible.  That's where we come in.
They wanted the entire renovation done in two weeks, and we were more than happy to undertake that project.
We removed some displays and old storefront pieces, and replaced them with new cabinets and countertops, made with fine Maple Meadow LG Hi-Macs solid surface.  To speed up the process, we kept the exsiccating countertop in place.  We took an exact template from the exsiccating counter, and created a new countertop as a cap, using LG Hi-Macs solid surface for the main surface and stainless steel for the hot grilling areas.
All of the sinks, pipes and holes all ended up in the same locations, making conversions a snap.  And, just as promised, the store was open for business after just 14 days, in time to make sure the Entertainment District got its helping of Timbits, donuts and muffins.  We're proud of the work we've done, and we think it looks fantastic!