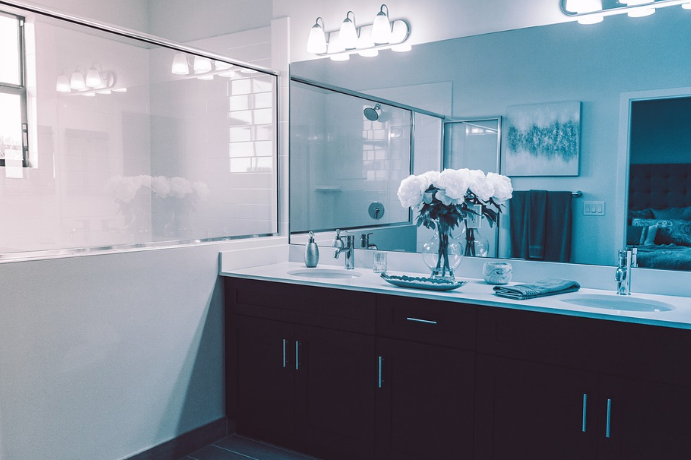 What are some of the hottest trends this year in bathroom décor and design? Find out what you can do for the ultimate bathroom remodel. These ideas will inspire you. Build the oasis you deserve in your own home.
Solid Surface Showers
Do you need an attractive and affordable option for your home? Thermoformed solid surface materials can be custom designed for your new luxury bathroom remodel. These nonporous surfaces offer extra protection in high moisture areas. Enjoy a seamless appearance that is also very easy to clean. No grout woes! Combine an interesting combination of attractive surface options:
Granite
Marbled
Different colors
Unique veins
Natural stone
Subway tile
Bold solid colors
Customized
Additionally, our talented design team can customize the size and height of the solid surface showers to your unique specifications. No more guessing if a shower will fit your bathroom. We take out all of the guesswork. Our solid surface products install easily and quickly.
Custom Lighting
Avoid boring lighting schemes. This year embrace custom lighting! Incorporate colorful light like blues or yellows to create a specific ambience in your bathroom. Or even better, open up your space to allow in the beauty of natural light.
Add a Little Green
This year make your bathroom a calm oasis by adding some green. Whether you opt for a light sea-green color or add in live plants, bring in nature to truly emphasize solace and beauty. For an even more natural look, add in colorful solid surface countertops in complimentary finishes and colors. Incorporate stones, wood finishes, or seashells. Enjoy a vacation in your own residence.
Safe and Sanitized
This year we all want a bathroom that is easy to clean and sanitize. Avoid the grime and bacteria-ridden grout by opting for solid surface showers, baths, and sinks. Because solid surface is non-porous, moisture and water damage are minimized. Don't worry about scrubbing away for hours at grout trying to remove harmful mold and bacteria. Enjoy a clean and sanitized space.
Call Solid Surface Today
When you want contemporary solutions to today's remodeling projects, call the experts at Solid Surface Canada. Our seasoned staff promises to provide you with the bathroom solutions you need. Enjoy style and comfort with your new remodel. We design custom store fixtures, cabinetry, kitchens, bathrooms, and so much more. Schedule your consultation today. We will be happy to help you. Call us.