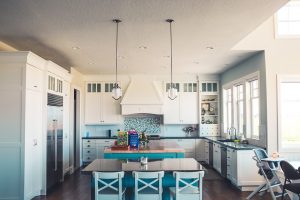 Upgrading your kitchen to the latest styles and trends is a surefire way to keep it looking exciting and interesting all year long!  Whether you're in the market for a complete remodel, or simply swapping out key pieces for a quick facelift, you can make your kitchen feel entirely new by updating to modern styles and trends.  Here are a few big ones for 2018 and beyond!
Brass and Aged Metallics
Brass and other aged metallic add a feeling of warmth to your kitchen.  When you used an accessory or highlight piece – rather than the omnipresent feel of brass in kitchens from the '80s – brass both reflects light and adds a hint of luxury to your kitchen.  Lighting fixtures, switch-cover plates and cabinet hardware are all logical places for a little elegance.
Matte Black
Using black for accents has significantly grown in popularity over the past few years, but glossy black paint can both be off-putting and difficult to keep in pristine condition.  For a softer, and easier to manage effect, try using flatter, matte black pieces as accents.  Chairs and chalkboards are two great ways to add a little flat black contrast to your kitchen.
Dark Floors
Light colors make the most sense for cabinets and walls – they help create the illusion of space, which is key in smaller rooms.  However, if you're looking to add to the feeling of coziness in a room – or just looking for a large contrast to the greiges and off whites that are so in vogue today – a dark floor can be just the ticket.   If you have wooden floors, a dark stain is a great choice.  Darker tiles or stone floors can also get much of the same effect.
Varied Materials
Mixing and matching from various high-quality material is a great way to make your kitchen feel sophisticated.  High quality wood cabinets and solid surface countertops are a particular favorite of ours, but glass, concrete, stone, ceramic, metal – varying classic and modern styles gives designers a wide range of space to choose from.