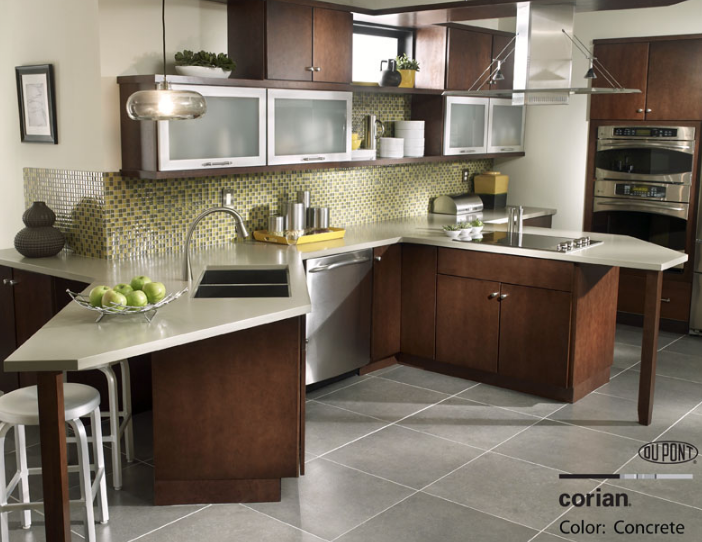 Many homeowners opt for manmade materials over natural stone for a variety of reasons. For example, solid surface sheets used for countertops last a long time with little maintenance. Busy families and businesses in food and health prefer the non-porous substance because they can clean countertops quickly without worrying about building up bacteria and germs. But what is the difference between solid surface and quartz? Are they the same thing?
Quartz vs. Solid Surface
Don't be confused by these two materials. Though solid surface sheets have a similar grain, color, and appearance as quartz, they are two different materials. They both can imitate natural stone countertops and are very popular. However, quartz countertops, mixed with quartz and polymer resins, are manufactured differently than solid surface.
A solid surface countertop has several polyester-based plastics and acrylics. The manufacturer heats these materials and pores them into a mold. The solid surface countertop has a thick appearance and a softer feel.
Solid surface countertop brands include Corian and Formica. The popular matte surface last for a long time and has strength and durability. Both quartz and solid surface countertops are higher-end materials than tile, wood, or laminate. If you scorch a solid surface countertop, you can repolish to remove the stains.
How They Look
Both quartz and solid surface look very similar in terms of general appearance. With so many colors, polishes, and patterns, homeowners have an incredible number of options. Quartz countertops often have visible seam. Solid surface countertops have a uniform appearance. You generally will not see the seam in a solid surface countertop.
Cost Comparison
Solid surface countertops provide an affordable durable option for businesses and homeowners. Because homeowners can clean the surface quickly, it remains a very popular choice. Additionally, businesses that serve food or want a sterile environment may opt for solid surface. Solid surface has a sleek contemporary look that homeowners love.
Other Considerations
Solids surface countertops can be thermoformed. This means that they can be customized into various shapes, curves, and customized sizes. Quartz is not as malleable. Additionally, Quartz is very heavy. This might be a consideration when installing the countertop.
When you need high-quality solid surface countertops, contact Solid Surface Canada for the region's highest quality materials. We provide commercial and residential solid surface countertops. Solid Surface Canada prides itself on superior artisanship and world-class manufacturing. When you want the best, you want Solid Surface Canada. Call us today for your initial consultation.