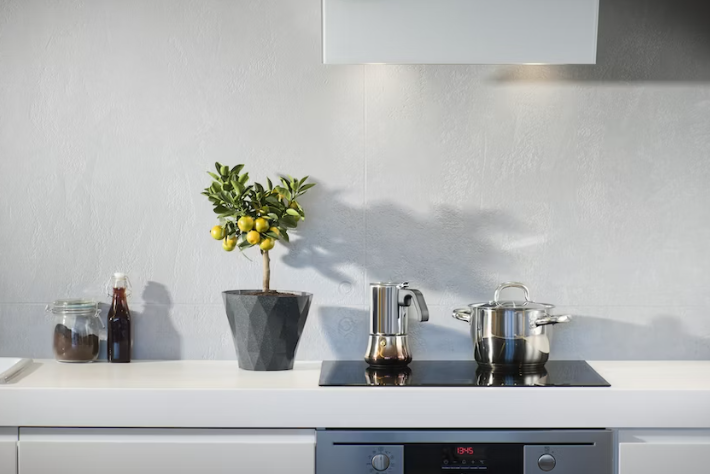 In today's urban living, smaller kitchen spaces have become increasingly common. While functional, these compact kitchens often need more spaciousness and storage than larger ones. However, with some well-thought-out design tricks and the use of new solid surface countertops in black and white kitchens, you can make the most of your smaller kitchen while adding extra custom storage.
1. Light Color Palettes
One of the oldest tricks in the book for visually expanding space is to use light color palettes. Light colors like whites, soft grays, and pale pastels can make your kitchen feel more open and airy. When paired with solid surface countertops, they create a clean and sophisticated look. Reflective surfaces like glossy tiles in black and white kitchens or shiny backsplashes can also enhance the feeling of spaciousness by bouncing light around the room.
2. Open Shelving
In smaller kitchens, upper cabinets can make the space feel cramped. To counter this, consider using open shelving. Open shelves not only create an open and inviting atmosphere but also provide a functional and decorative storage solution. You can display your favorite dishes, glassware, and kitchen accessories on these shelves, adding a personal touch to your kitchen decor.
3. Multi-Functional Furniture
Invest in multi-functional furniture to make the most of your small kitchen space. For example, choose a dining table that can double as a workspace or an island with built-in storage. Look for chairs and barstools that can be stacked or tucked away when not in use. By incorporating multi-functional furniture, you'll free up valuable space and increase the flexibility of your kitchen layout.
4. Solid Surface Countertops
Solid surface countertops are an excellent choice for small kitchens. They offer a seamless and uniform appearance, creating a sense of continuity in your design. These countertops can be customized to fit your space perfectly, eliminating seams and creating a clean, unbroken surface. They're also available in a wide range of colors and patterns, allowing you to choose a design that complements your kitchen decor.
5. Under-Cabinet Lighting
Dark corners and shadows can make a small kitchen appear even smaller. Under-cabinet lighting is an effective solution to brighten these areas. It improves visibility and adds a touch of elegance to your kitchen. LED strips or puck lights are ideal choices for under-cabinet lighting, and they can be discreetly installed to create a warm and inviting ambiance.
6. Pull-Out and Pull-Down Storage
Custom storage solutions are a must in a small kitchen. Pull-out and pull-down storage options, such as pull-out pantry shelves, pull-out cutting boards, and pull-down spice racks, maximize the use of every available inch. These clever storage solutions keep your kitchen organized and prevent clutter, making your small space more efficient.
7. Wall-Mounted Storage
Vertical space in a small kitchen is often underutilized. Wall-mounted storage can help you make the most of this valuable area. Install hooks, rails, and pegboards to hang pots, pans, utensils, and even herbs or small plants. This not only adds functional storage but also creates a decorative and personalized element in your kitchen.
These design ideas not only enhance the functionality of your space but also create a visually appealing and inviting kitchen that you'll love to use and show off.