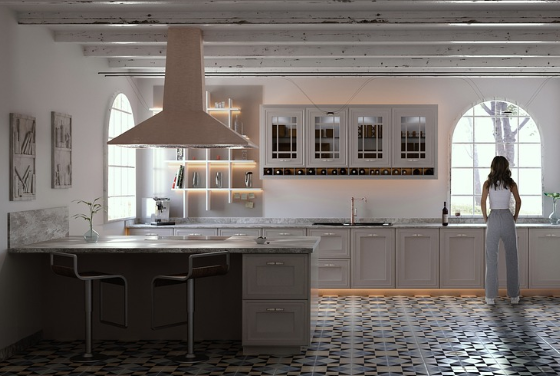 Are you ready to upgrade your kitchen? Knowing how much kitchen renovation cost, choosing a durable kitchen countertop will save you time and money. Solid surface countertops have durable construction and long-lasting beauty. They are made of a blend of acrylic and polyester material, making them resistant to scratches, heat damage, and fading due to UV light. Compared to other materials like tile or marble countertops which can crack or chip with heavy use, solid surface countertops will maintain their shape and colour over time.
Solid Surface Countertops Have Very Low Maintenance
Unlike other kinds of countertops, such as natural stone that require regular sealing, sanding and polishing, solid surface countertops make it easy to keep them looking fresh. You only need a wipe-down with warm water and dish detergent to keep your counters clean. For a family, how much kitchen renovation cost includes longtime maintenance. Do you want a countertop that you can use for years and affordably maintain? Choose a solid surface.
Contemporary Colours and Styles for Every Home
Solid surface countertops come in a fantastic array of colours, textures, patterns and finishes. Easily customize your kitchen or bathroom décor according to your style preferences. From sleek marble look-alikes with sharp edges for traditional-style kitchens to edges for contemporary designs, select the right kind of solid surface countertop for your home.
Worry-Free Installation
Installing a solid surface countertop is much easier than installing other countertops. Why? Your new countertops come in pre-cut sections easily attached to existing surfaces. The installers can attach the new surface to cabinets or walls without having to do extensive remodelling work in the process.
Most sections clip into each other. No screws or glue is required during installation. This also makes it easier to make any repairs without removing large portions of the countertop itself if its components sustain any damage over time. A solid surface is a hassle-free option for every homeowner.
Choose from a Wide Range of Customizable Patterns
Solid surface countertops are highly customizable. Solid surfaces come in various patterns and colours, including classic shades such as black, gray and white. Mix different coloured panels together to create unique patterns perfect for matching any décor theme. Meet with our design team to discuss the incredible options available.
A Clean Sterile Surface
A safe kitchen countertop is necessary today. Solid surfaces provide a nonporous surface that protects your family from mould, bacteria, and viruses. Easy to sanitize, solid surface countertops remain popular in homes, medical settings, and public cafeterias where health and safety come first. Doesn't your family deserve that type of protection?
Call Solid Surface Today
Your family deserves high-quality kitchen countertops. We have a wide selection of custom countertops, styles, and colours perfect for every home. Our team would be happy to find the right countertop for your home and budget. Contact us today. We pride ourselves on providing high-quality craftsmanship and the best materials. You deserve the best kitchen countertops. We look forward to speaking with you. Call us.