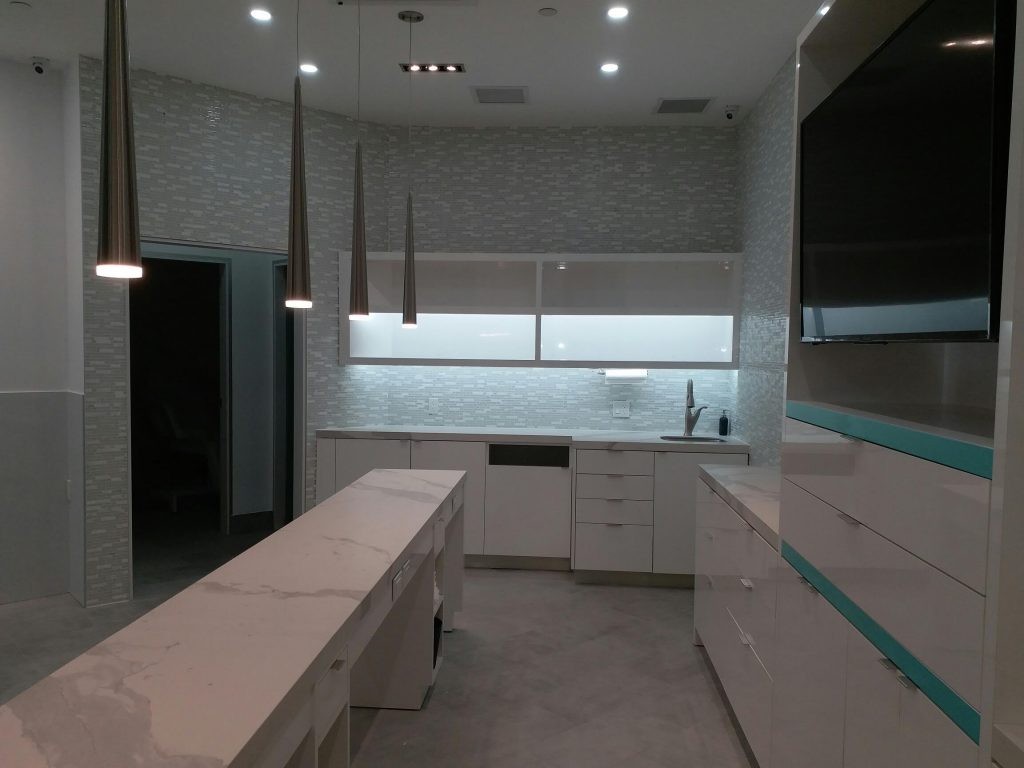 Do you have an outdated ugly kitchen countertop? Maybe your concrete counter has serious damage from years of use or your laminate countertop looks worn and just plain depressing. When considering your kitchen remodel, you might need to install a new counter. A solid surface can help you find the ideal solution for your remodel.
Is Your Countertop Damaged?
Your counter might be damaged for a number of reasons. In fact, one of the top reasons that countertops need updating during a kitchen remodel is considerable damage over time:
Laminate edge seams are susceptible to serious water damage
Stone and concrete tile need continuous sealing
Wood countertops warp with water damage and moisture
Knives cause damage to concrete counters
Water spots and scratches ruin stainless steel
Stone surfaces require regular sealing to prevent damage
Unfortunately, because you constantly use your kitchen counter, scratches, mould, and water damage easily occurs. Maybe a guest placed a hot pot on the laminate surface, burning the material. Perhaps your older home has traditional wooden countertops warped from decades of moisture. No matter the reason, you might find that past a few scratches or a stain here or there, you are desperately in need of a new countertop.
Water Damage
Wood surfaces especially remain susceptible to water damage over time. Moisture builds up bacteria and mould, resulting in an unclean, unhealthy surface. The water warps the wooden surface substantially. Over time, the wood may sustain irreparable damage. Other surfaces like stainless steel may have some minor issues with moisture. Any porous surface can store up bacteria and mould.
Impact and Heat
Finally, the forceful impacts and extreme heat can result in stains and cracks. For example, a sharp knife might permanently scratch a concrete surface. Heat can cause stains impossible to cover. You will want to change your countertop if time has resulted in countless cracks and stains.
When you find that you need to replace your countertop, please contact us at Solid Surface Canada. Not only do we have an impressive collection of countertops in a variety of exciting styles, we promise to beat any quote from an authorized dealer. We promise to find you the perfect countertop for your kitchen.
Solid Surface Sustainability
One of the most popular options for contemporary countertops is a solid surface. Made out of durable nonporous materials, solid surface countertops provide a sustainable alternative to traditional laminate countertops or stainless steel. Easily repair damaged spots on a solid surface countertop. Other benefits of solid surface countertops include:
Low maintenance
Durability
Water-resistant
Non-porous
Heat resistant
Resistant to bacteria
Sanitary
Inhibits mould
Many colour options
Additionally, solid surface kitchen counters can be integrated with a backsplash or sink, for a cohesive look. Available in a nearly limitless number of styles, colours, and designs, solid surface countertops offer the savvy homeowner a sustainable and beautiful option for their home.
Contact Solid Surface Canada Today
When it's time to replace your kitchen countertop, call Solid Surface Canada. Set up your initial consultation today. We will be happy to help you find the perfect counter for your dream kitchen. Contact us.