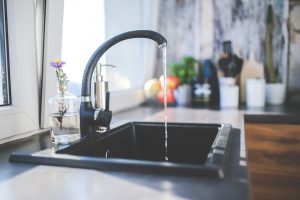 Now that you have your new solid surface countertops picked out, it's time to move on to an important piece of kitchen hardware – the sink.  There are a wide range of possible sink options to choose from.  Some blend in seamlessly with the countertop, designed to be an inconspicuous as possible.  Others stand out and become a feature of the kitchen itself.  The sink you choose depends on your style choices and what you practically want to do with your kitchen – there isn't a right or wrong choice.  Here are some of the options available.
A seamless sink blends in with its environment, and doesn't detract from the surrounding accents and features.  When you're talking about solid surface countertops, you're usually talking about a solid surface sink.  When your sink is installed alongside the countertop, the seamless finish means that there are no cracks or crevices for mold or mildew to grow – it's an ultrahygenic option.  Solid surface sinks are scratch-resistant, easy to clean and set the industry standard for durability.
If you want something a little different to break up a solid surface countertop, stainless steel is a contemporary, trendy choice that can work quite nicely.  It's a generic enough material that it blends with almost any type of surface, with any color or pattern.  It's also fairly maintenance free; they're difficult to crack, chip or stain, which is what you want in something that's going to see as much use as your kitchen sink.
Stylized sinks become features of their own – they stand out and can become the centerpiece of your kitchen.  Farmhouse sinks are very popular – it's an oversized sink with an overhanging lip.  It draws attention to itself, and can be a functional and beautiful addition to your home.              They're not just available in porcelain anymore – you can get farmhouse or apron sinks in copper and stainless steel now, giving you more of a selection.
We do recommend that you stick with undermount sinks.  Top-mounted sinks build up grime along their perimeter edges – that's unsanitary and ugly.  We also recommend avoid acrylic sinks; they're prone to chipping and wear, and won't last as long as a good solid surface or stainless steel option.  Also, don't get too crazy with fancy shapes.  Standard sink shapes are standard for a reason: they work!
Whatever your sink choices are, we recommend our high-quality solid surface countertops to surround them.  Contact us today to see what we can do for you!