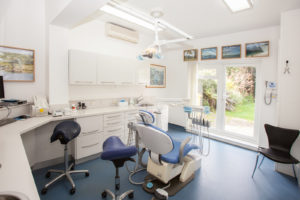 Going to the dentist can be a nerve-wracking experience for some clients, so you want to be sure that your office is as welcoming and relaxing as possible.  Part of this comes in having the latest and greatest equipment and facilities, but remodeling your entire practice may be a way to help put patients at ease, especially if your office currently looks like something straight out of the '70s.
Remodeling can also help improve patient flow, maximize your space and contribute to better staff productivity.   A well-thought-through remodel can increase productivity, allowing you to see more patients per day.  It can show patients that you're willing to invest in their comfort and safety, putting them at ease when they enter your practice.  It can be an opportunity to add features other offices don't have – adding privacy at a check-out area, or making the office easier for those with handicaps to access.
Whether you're looking for a full remodel or just a few touchups, there are some simple, easy things you can do to help your practice look as good as possible.
Cabinets and countertops can easily become outdated and worn.  New units can be custom-built to meet the exact needs of you and your practice.  This is both an issue of appearance – a run-down environment will make people more wary of trust you and your practice – and efficiency.  A solid surface like Corian is an excellent choice – it can withstand the wear and tear of a high-volume environment like your office, and its nonporous surface means that harmful bacteria, mold or mildew won't seep in and create unhygienic conditions.
Corian is GREENGUARD certified as a low VOC-emitting material, and is GREENGUARD listed in terms of microbial resistance.  It's Class I Fire Rated, and meets all relevant NSF/ANSI standards, to boot.  It's the perfect choice for a safe, healthy environment.
Replacing old lighting fixtures with new, fluorescent units can be a major boon, as well.  They provide much better ambient light than traditional fixtures, which is an exceptional benefit.  In a waiting area, also consider incandescent or sconce lights, creating a softer and more inviting atmosphere.
Flooring quickly becomes dirty and dreary, so new carpeting, especially in the high-traffic seating area and hallways, is a quick fix.  Similarly, replacing vinyl in operatories, labs and rest rooms also quickly make your practice seem better put together.
Even something as simple as a new coat of paint on the wall can make a major difference in the overall appearance of your space.  There are dozens of possible improvements you can make with a remodel of your practice.  You and your patients will be glad you spent the time and effort to do so.