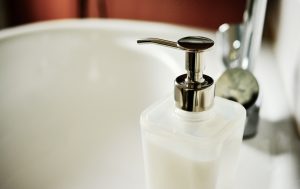 Choosing a bathroom sink depends on many factors. Which bathroom you're shopping for, how much space you have, and what functionality you want. Before you make any decisions, here are some pros and cons of some common types of sinks that are available.
Top Mount Sink
 This is probably the most common sink. It sits on top of the counter. Most of the sink is below the counter, with the rim being on top of the counter and visible. They work with pretty much any countertop material. They're quite easy, and inexpensive to install. The only downside is that if there is any water spill, you won't be able to wipe it straight into the sink. It works well for ensuites or minimalist design schemes.
Undermount Sink
 An undermount sink sits underneath the counter, with the rim fixed to the underside of the countertop. It's a seamless look, and water spills can be wiped directly into the sink from the counter. Undermounted sinks can only be used with stone, or other solid surface countertops. It can't be used with laminate, as it can't be sealed from moisture. It's also a more expensive option than a top mount sink.
Wall Mounted Sink
 A wall-mounted sink is fixed directly to the wall, so there's no countertop. It doesn't have any cabinets, so your bathroom will look bigger, spacious and less cluttered. It does mean that the plumbing needs to be inside the wall, to give a cleaner look. The only minus is that it decreases the amount of storage space. It's a great look for small bathrooms.
Pedestal Sink
 A pedestal sink is a simple option and one that makes up for any plumbing challenges. The pedestal can be used to hide any plumbing, and the sink sits on top. It works well for period, and traditional homes. It does mean that there isn't much storage.
Semi recessed Sink
A semi-recessed sink can be a great option for bathrooms with limited space, as it still gives some storage space. It sits on the counter but is partly recessed into top and cabinets. It sits closer to the front of the countertops, so it's a good option for people with limited mobility. As there's no countertop at the front of the sink, any water spills are more likely to end up on the floor.
Wash plane Sink
Wash plane sinks are slim, sleek, and stylish. They're often seen in hotels, and restaurants. They can be ceramic, porcelain, glass, or even marble, engineered stone, or granite. They're a fantastic option for powder rooms, as they're a space saving sink. They aren't suitable for ensuites or full-size bathrooms, as the basin is shallow and has no plug.
Vessel Sink
A vessel sink should sit completely on top of the counter, but some may sit a little below. They make a statement and can be a beautiful feature piece. You will need to carefully plan counter height, as vessel sinks can be quite tall. It can be difficult to clean around the base, and the back of the sink.
All in One Sink and Countertop
An all in one vanity unit has a sink that's moulded as part of the countertop. It's easy to clean and is available in a wide range of colours and materials. They are usually available in set sizes, but you may be able to have one custom made. The design can mean that you don't have a lot of flat counter space.