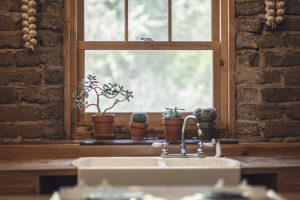 Your kitchen is the heart of your home. It is where people gather and where food is produced. By bringing warm elements to your kitchen you enhance that heart and make it beat even stronger. To help you decide how to include warm elements in your kitchen, here are a few ideas.
Gold and Brass
Chrome and silver are nice accent colors, but they have the potential of feeling cold. If you want an alternative, try gold or brass. These colors can be overwhelming on a large scale, so start small. Cupboard hardware has always been a simple yet effective place to add personality in your kitchen. Gold or brass hardware can bring a warm element to your kitchen.
Gold or brass picture frames are also a great idea. While there might not be a lot of wall space in your kitchen, if you have the opportunity to hang a picture, put it in a warmer-colored frame to add depth to your kitchen.
Accessorize and Personalize
Kitchens are not just about function. You spend way too much time in a kitchen for it to not reflect your personality. Add accessories to give your kitchen a personal touch. This shouldn't be an overwhelming amount, as otherwise your kitchen can begin to feel cluttered. If you have a collection of old, well-loved cookbooks, find a place to display them. If you collect vases, make sure they are cleaned and put them together on a shelf. Antique plates from your grandmother can be hung on the wall. Keep accessories to a central theme, but don't be afraid to make your kitchen represent yourself.
Use textures
Textures are an easy way to bring instant warmth to any kitchen. Chances are there is a window in your kitchen. Put up a simple curtain topper in a warm, playful pattern to add personality to your kitchen. Warm colors like a deep cream, or traditional patterns like a plaid, will add warmth and help frame your natural light source.
Your kitchen table can also use texture. There are many options here, from tablecloths to placemats to cloth napkins. Choose the option that best works for you. If you want to make sure that your kitchen surface remains visible, cloth napkins may be the best way to go. You can even take the extra step and find your own fabric and have a sewer make a set for you. Textures will help make your kitchen a warm room to be in.
Keep Focused
Keep focused on your kitchen's purpose. Kitchens are meant to bring people together. They are meant to provide nutritious and tasty food. Kitchens should not be hidden. They should be the focal point of a home. Use this knowledge when you decorate your kitchen. When you bring warm elements to your kitchen you signal to everyone else that they are welcome here.