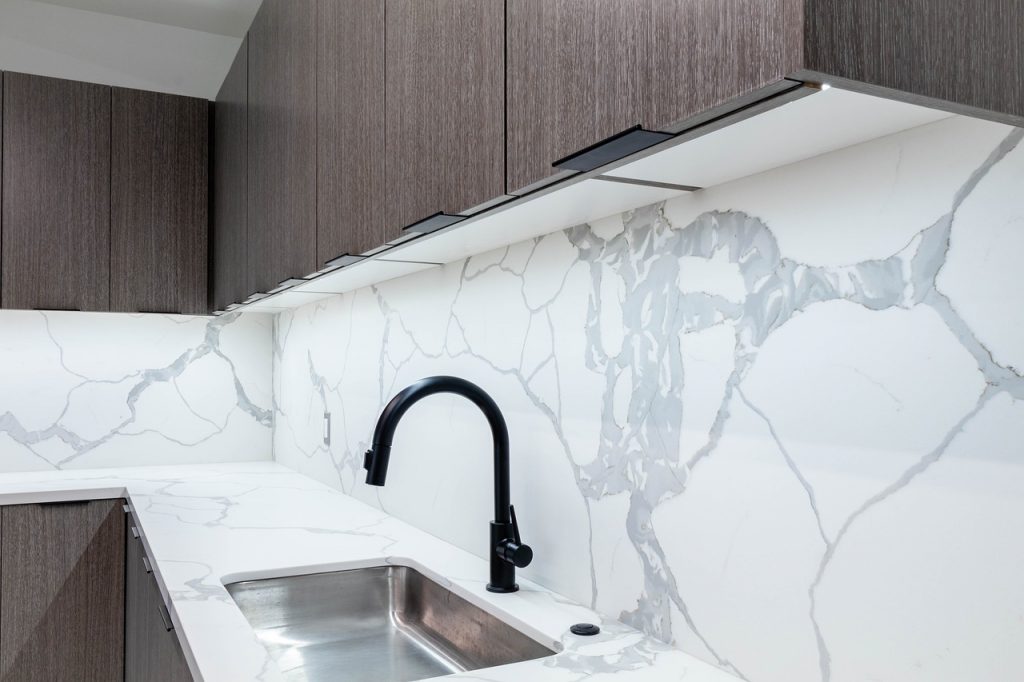 Solid surface countertops are an excellent addition to both kitchens and bathrooms. They are easy to install, cheap to maintain, and simple to clean. But who are the best brands of solid surface countertops?
Below, we will dig into five of those top brands, informing you of their specialty.
#1: Avonite
Avonite is an all-purpose brand that is excellent at mimicking glass, concrete, and metal. They are great if you want to get a solid surface countertop that pretends to be something else.
All Avonite products are resistant to stains, scratches, and higher temperatures.
#2: Corian
Corian is often used interchangeably with solid surface due to its easy brand recognition. Corian excels at easy shaping, making them very suitable for unique needs.
DuPont is the creator behind Corian, lending to its unique features through transparent business practices. Corian is one of the best products of solid surface countertops as a result.
#3: Formica
Formica is another easily recognizable brand, but it is best known for its speckled appearance. However, Formica isn't just a brand known to be "solid surface with sprinkles" Instead, it is known for seamless designs.
Formica has an impressive line-up of designs for people from all walks. Whether you prefer solid covers of a unique appearance, Formica is an excellent selection.
#4: Hanex
Hanex is a company known for two things: being easy to work with and flexible. It is one of the few companies known for having over 70 varieties of colors and patterns. That puts them on par with some of the better-known manufacturers.
Hanex's design is also known for being easily cut during fabrication. That means quick production and turnaround times. Still, it is sturdy enough to withstand heat and stains.
#5: Wilsonart
Wilsonart solid surface countertops are unique in their construction. These countertops are built so that they aren't affected by UV lights, allowing them to keep their color.
They are also known for having tight seams, keeping water and food from bunching in. Wilsonart countertops are easy to take care of and are great at duplicating a granite appearance.
#6: Staron
Staron Solid Surfaces are known for being incredibly sturdy. They are also NSF compliant, meaning they are suitable for commercial food use.
Staron also has a selection of about 70 patterns, with an entire series of colors for recycled materials. They also offer sinks and bathroom bowls that blend with their countertops.
#7: Meganite
Meganite offers acrylic solid surface options, known for producing everything from countertops to commercial spaces. Their countertops are also incredibly easy to manage and clean, explaining why they are used in healthcare.
Meganite is also known to be easy to repair. However, it isn't known for offering as many options. Still, those options are beautiful and simple.
Final Thoughts
Solid surface countertops can be a beautiful addition to any home. However, you'll find yourself appreciating it more if you buy from a brand that appeals to you.
Whether you are looking for flexibility, sturdiness, or something easy to clean, solid surface countertops cover all of these. To help find the right brand for you, reach out to Solid Surface Canada for your needs.