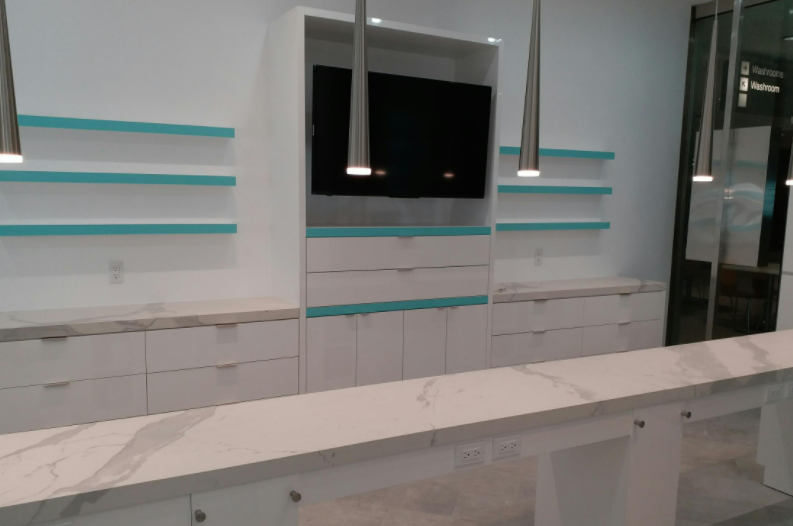 Solid surface countertops offer homeowners an affordable and easy-to-clean solution for most kitchen needs. The solid surface sheets don't scratch easily and can withstand many common issues like nasty stains. There are several materials to choose from like quartz, granite, and other alternatives. Manufactured from both natural materials and resin, they provide better options than cheaper materials like laminate.  
The Strongest Materials
Your new countertop consists of a bonding resin, pigmentation, and mineral particles. Many of the solid surface sheets have polyester or a filler called ATH (or alumina trihydrate). Some combine both materials.
Strengths and Weaknesses
The countertops made of both acrylic and polyester combine the durability and glossy appearance of the two. If you choose an acrylic-only countertop, they have a classic seamless look and withstand a lot. While polyester can have more affordability, they have some fading due if exposed to ultraviolet. Homeowners often choose polyester when they want to include vibrant colours in their kitchen. While polyester can be brittle, they have a beautiful glossy appearance.  
Non-Porous Surface & the Sanitary Choice
The solid surface countertop has a non-porous surface. What does that mean? Don't worry about having to spend hours cleaning. Instead, enjoy a quick and easy clean no matter what the stain. Compared to marble, a solid surface provides a much more sanitary option. Solid surface is ideal for homeowners who value cleanliness. For this reason, many healthcare facilities purchase solid surfaces over wood, which holds germs and viruses.  
Heat and Solid Surface
Perhaps the one drawback to solid surface materials is that they are not as heat-resistant as other surfaces. Avoid placing extremely hot items on the counter. If a burn does occur, thankfully you can easily repair the surface.
Easy Repair
As mentioned earlier, you don't have to worry about costly repairs with these materials. Scratches, stains, and burns disappear quickly. Use a random orbital sander for easy fixes. If you plan on using your countertop for a lot of food prep, you may want to opt for white to avoid any scratches from coming through. Believe it or not, even fine-grain sandpaper work. 
When you want a beautiful countertop, contact the design pros at Solid Surface. We promise to provide you with high-quality materials at a price you can afford. We have the best customer service in the area. Please, call us today. We will be happy to talk with you.