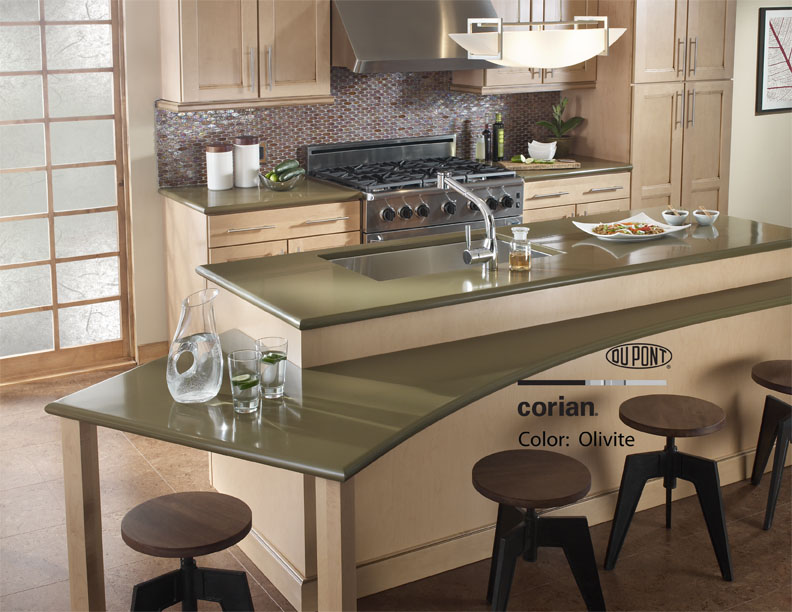 Want to upgrade the value of your home? Remodeling your outdated kitchen countertops will add both value and functionality to your kitchen. You are so tired of your ancient kitchen countertops and cabinets. Add an incredible contemporary look to your home with new solid surface countertops. Bring pizazz and color with bold colors and brilliant design. Why should you remodel your kitchen countertops?
1 Increase Your Resell Value
The kitchen sells the home. Many new buyers will immediately make a decision on a house based on the kitchen. Why? The kitchen is the center of the home. Families convene in the kitchen for holidays, to talk about the school day, and to make memories. Remodeling your countertops with an updated surface makes your home more appealing to new buyers. Scratchy old countertops make your kitchen seem antiquated and cheap. Add an attractive solid surface countertop. You will appreciate the difference it makes without spending a fortune. Replacing your kitchen countertop is actually a very affordable way to upgrade your kitchen.
2 Increase Functionality
Many old kitchen countertop surfaces don't hold well over time. Wood surfaces, for example, are susceptible to water damage, mold, and bacteria. Other surfaces scratch easily or melt under heat. For these reasons, many homeowners install a solid surface countertop. You want a surface that can withstand a lot of food prepping, is easy to clean and doesn't succumb to water damage. Solid surface countertops provide an affordable option. Enjoy a new countertop that will last for years.  
3 Minimize Bacteria and Viruses
In a post-pandemic era, reducing bacteria and virus load on kitchen surfaces keep our families safe. Unfortunately, older surfaces with cracks and damage can hold onto dangerous bacteria and viruses. Wood countertops will hold onto bacteria and mold for a long period of time. Solid Surface countertops remain popular for the very reason that they have a very sterile, easy-to-clean surface. In fact, many hospitals and medical facilities opt for solid surface countertops both for their versatility and germ-free surfaces.  
4 Make Your Home Beautiful
Very simply, you want a beautiful home. You spend a lot of time in your kitchen. You don't want to spend your days staring at a countertop full of unsightly stains and scratches. Maybe your countertops have smoke damage. No matter what, you don't want an ugly outdated countertop. Finding the right new countertop will increase your satisfaction with your home. Choose a modern countertop that matches your lifestyle and overall aesthetic. Solid Surface has an impressive custom selection of kitchen surfaces to match any décor. Speak with our talented design team about what type of countertop fits your needs. We will be happy to help you.  
The Solid Surface Difference
Replace your outdated ugly countertops with a gorgeous new solid surface countertop from Solid Surface Canada. We pride ourselves on having the highest quality materials and workmanship. Our countertops last for years. Solid surface countertops come in an impressive variety of styles and colors. Contact us today. Our friendly staff will be happy to help you.